Who is Nathalie Garson?
I am truly passionate about empowering businesses and entrepreneurs to be the best at what they do. I find the most joy in bringing people closer to what they were born to do because I strongly believe that the only way to reach true success is to bring ourselves closer to our passion and through it, to find a way to contribute on a bigger scale to others.
This is why I created the Born To Do Method™ which will help you define your true vision by aligning your personal dream to your professional goals and to find the synergies between your personal aspirations and your optimal business performance. I will help you reach your optimal strategic positioning by defining your specific competitive advantage and your unique value proposition. The Born To Do Method will bring your life and your business to the next level.
Business Coaching
After many years of working with entrepreneurs and organizations as a Business Consultant, helping them grow with the traditional business performance tools, Nathalie Garson realized that the most powerful tool to achieve success is the entrepreneur's drive and passion.
That's why she decided to create a unique method called The Born To Do Method™ which teaches entrepreneurs how to believe in themselves, to face uncertainty and to adapt themselves to the ever changing business context.
Business Consulting
Nathalie Garson is the Founder and the CEO of a Consulting Agency called Yazamut Israel.
Yazamut Israel provides valuable Business Development Strategies, market analysis, feasibility studies and business plans to business owners and organizations who want to optimize their positioning and development.
Yazamut Israel has provided Consulting Services to the Israeli Government and to many other companies in Israel and abroad.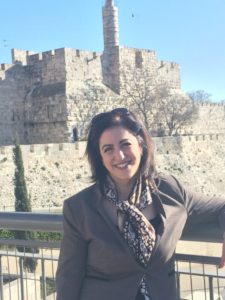 Nathalie Garson is a Strategist, Business Coach & Consultant, and a Lecturer with more than 15 years of experience. Originally from France, she lived in the US for many years and moved permanently to Israel 13 years ago.
She started her career in Marketing & Business Development, working for different High Tech and Start Up companies up to the level of Director of Marketing & Business Development.
After completing her Executive MBA at the Hebrew University of Jerusalem, she opened her own consulting firm, giving strategic advice to companies, organizations and governmental institutions – until she understood that her true passion was to help entrepreneurs realize their dreams. She then created her Business Coaching method called "The Born To Do Method" which helps entrepreneurs define what their purpose is and find synergies between their personal aspirations and their business goals.
Since then she has helped many entrepreneurs reach true success, both in their professional and their personal life.
She also enjoys teaching MBA students and is regularly invited to give inspirational lectures and workshops in Entrepreneurship, Business Strategy and themes related to the Born To Do.